Kyle Read Named Winner of 2013 Catalyst Award
The Society of Typographic Aficionados has announced that Kyle Read of New Jersey will be the recipient of the 2013 SOTA Catalyst Award. Created in 2010, the award recognizes a person 25 years of age or younger who demonstrates significant achievement and future promise in the field of typography. Kyle will present his work and receive the award at TypeCon2013, taking place this summer in Portland, OR.
About the Winner
Kyle Read, 24
Chatham, NJ
Simply put, typography is what Kyle Read knows and loves. Kyle graduated from the Savannah College of Art & Design in 2010 with a BA in Graphic Design and Printmaking. Afterwards, Kyle took a position in the corporate world at Abercrombie & Fitch where he helped reinvent the brand's typographic voice by applying his knowledge of type design and typography. In doing so, he created dozens of alphabets and typefaces for A&F and the Hollister brand. In 2012 Kyle was accepted into the Type@Cooper Extended Program in New York City. He is currently working towards completing that program later this year.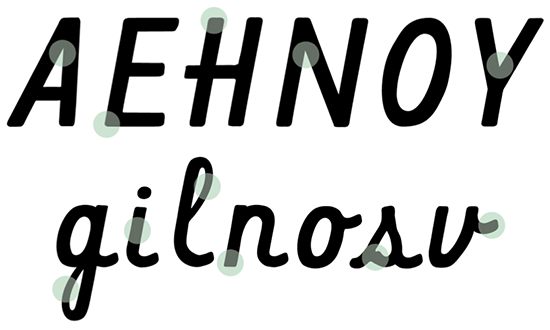 Many spectacular submissions from truly talented and brilliant people were received, making it not such an easy task for the jury to arrive at a winner. Nevertheless, it soon became clear that Kyle Read was it. Here is what a couple of the judges had to say:
"Kyle Read is a committed and articulate young member of the type design community. He understands letters not as abstract shapes, but as elements of communication that make their appearance in specific media and through specific processes. That sophisticated awareness will serve his developing design sense well."
"Kyle's type designs satisfied a real client's need under very particular constraints, which is impressive territory for a young designer to have successfully navigated."
The SOTA Catalyst Award is presented each year to a young person who has created a significant or important body of original work a field related to typography. Recipients of the award have included Satya Rajpurohit (2010), Erin McLaughlin (2011), Niko Skourtis (2012), Kyle Read (2013), Krista Radoeva (2014), Shiva Nallaperumal (2015), Roxane Gataud (2016), Ramakrishna Saiteja (2017), Frida Medrano (2018), Ruggero Magrì (2019), and Anagha Narayanan (2020)