SOTA Typography Award Honors Louise Fili & Carol Wahler
The Society of Typographic Aficionados is pleased to announce that designer Louise Fili and executive director of the Type Directors Club Carol Wahler have both been honored with the 2018 SOTA Typography Award. The presentation took place on Saturday, August 4th, 2018, at the Hilton Portland Downtown as a part of TypeCon2018.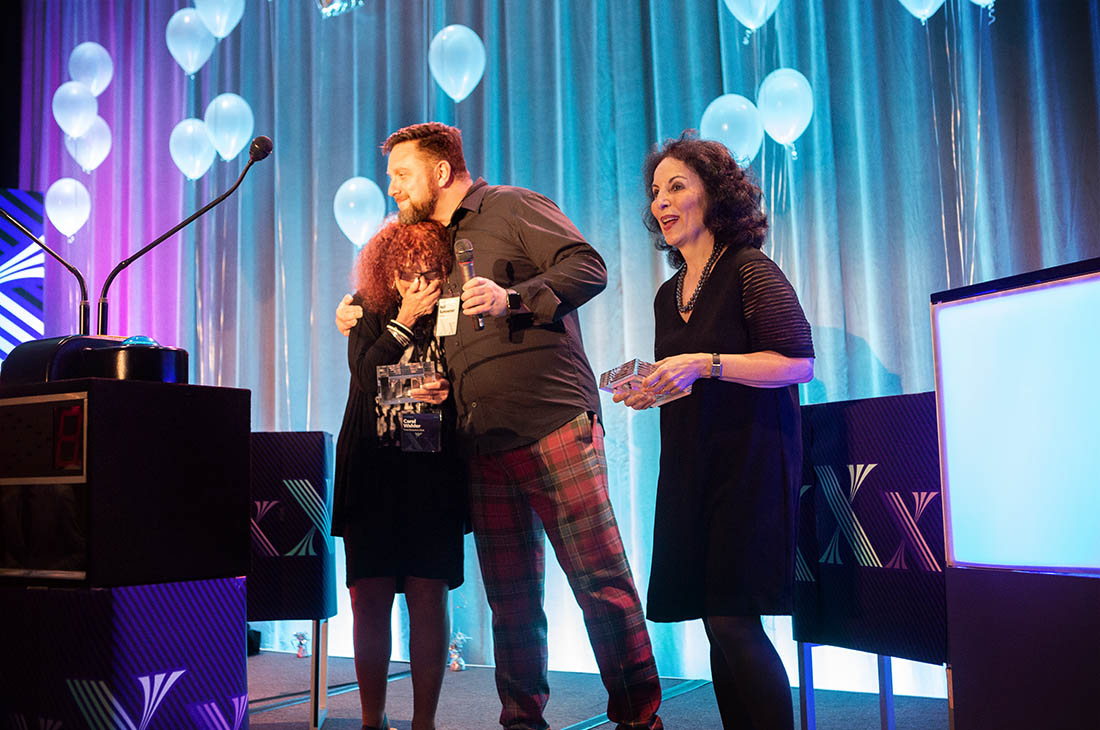 Chaired by SOTA board member Neil Summerour, the award jury included Lily Feinberg, Ale Paul, Angela Riechers, Laura Worthington, and Akira Yoshino. In a break from tradition, the SOTA board made the decision to give two awards this year.
Louise Fili is founder of Louise Fili Ltd and was formerly senior designer for Herb Lubalin, and art director of Pantheon Books from 1978 to 1989, where she designed close to 2,000 book jackets. She has received Gold and Silver Medals from the Society of Illustrators and the New York Art Director's Club, the Premio Grafico from the Bologna Book Fair, and three James Beard award nominations. Fili has taught and lectured extensively, and her work is in the permanent collections of the Library of Congress, the Cooper Hewitt Museum, and the Bibliothèque Nationale.
She is co-author, with Steven Heller, of Italian Art Deco, British Modern, Dutch Moderne, Streamline, French Modern, Deco España, German Modern, Design Connoisseur, Typology, Stylepedia, Euro Deco, Scripts, Shadow Type, Stencil Type, and Slab Serif Type. Fili has also written Elegantissima, Grafica della Strada, Graphique de la Rue, Gràfica de les Rambles, The Cognoscenti's Guide to Florence, and Italianissimo. A member of the Art Directors Hall of Fame, she has received the medal for Lifetime Achievement from the AIGA and the Type Directors Club.
Carol Wahler has been Executive Director with the Type Directors Club since 1983. Carol has a significant background in type, starting with her family's Ludlow typesetting business in the 1950s. During her tenure with the TDC, the membership has more than tripled. She has performed as editor of the TDC Letterspace newsletter and has been integrally involved in other committees, including the annual type design competition and traveling exhibits. As a lecturer, Carol continually brings the story and history of the TDC to universities and schools around the globe.
Prior to her current position, Carol raised two children and graduated Magna Cum Laud from William Paterson University, where she received a B.A. in Art History. She has four grandchildren and lives in Westport, Connecticut with her husband Allan.
The SOTA Typography Award is presented each year to an outstanding member of the type community. Recipients of the award have included Hermann Zapf (2003), Ed Benguiat (2004), Matthew Carter (2005), Adrian Frutiger (2006), David Berlow (2007), Gerrit Noordzij (2008), Gerard Unger (2009), Doyald Young (2010), Erik Spiekermann (2011), Mike Parker (2012), Zuzana Licko (2013), Fiona Ross (2014), Robert Slimbach (2015), Fred Smeijers (2016), Paula Scher (2017), Louise Fili (2018), Carol Wahler (2018), and Paul Shaw (2019).